CNN's 360° feature has a picture of us from the Rose Bowl parade up, and is asking for captions. Here's some of the better ones: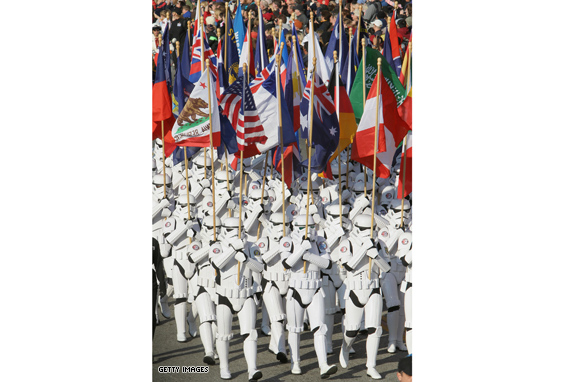 The next wave of fighters getting ready to deploy to Iraq…the stormtroopers.

The stormtroopers going to rescue the Olympic torch.

In defiance of friend Steven Spielberg, director George Lucas provided the Chinese government with additional security for the Olympic torch relay.

President Dick Cheney's inaugural parade stepped off right on time today……………………..

The IOC decides to use storm troopers to protect the Olympic torch from being distinguished

After the explosion of the Death Star, the shortages of jobs led troopers to take an unorthodox approach to employment.

We'll see who will stop the torch now …

Just keep smiling, with these flags, they'll never guess we aren't from their planet…

This is what happens when the Wookie costumes get held up at the drycleaners…

Stormtroopers do it in formation.

Two stormtroopers walk into a bar. The third one ducks.

Where's Waldo

Reagan's Star Wars has finally been put into action!

"MMM, escort torch to Bejing, do you?"

Comment from Yoda, Dagoba, as the Olympic Torch escorts, adorned with 100% made in China armor, transport the Olympic torch through downtown San Fran.
I bolded my favorites. You can see the rest of the responses
here
.